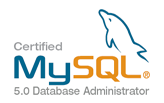 5.0 Certification Validation
certificate id: 74651
password: sheeri

---
Oracle ACE Director for MySQL, March 2010
---
Merv Adrian of Gartner
says
:
"sheeri is a seriously high-bandwidth presenter. Good, well organized content."
Henrik Ingo of OpenLife.cc says:
"The energy this lady has to educate people on using MySQL is simply amazing."
Oracle/Sun/MySQL AB employees have said:
"Sheeri always amazes me. When I think that I have seen all it has to be seen in the field of databases, she will always come with some innovative way of looking at old things
….
She's a captivating speaker. Once you attend one of her sessions (or if you just talk to her in a corridor about anything), you are addicted. Highly recommended!"
Giuseppe Maxia, http://tinyurl.com/2xm2o5
"Beware the SHE-BA, she's got great blog entries, a superb podcast, and does so much cool things"
Colin Charles, http://tinyurl.com/2cw543
"Recognising achievement in the arena of communicating, connecting individuals, arranging meetings, and being a vocal advocate of MySQL community interests, [Sheeri] deserves the longest title of all MySQL Community Award Winners of 2007. [She] has made great contributions through MySQL Camp, through blogs, and to be able to respond instantaneously with plenty of insight."
http://www.planetmysql.org/kaj/?p=107
Clients have said:
"Your [technical] review has been really thorough, and you've gone above and beyond and done some things to make my job a lot easier!" — Brian Jepson, Editor, O'Reilly Media, Inc.
"Sheeri provided excellent support on an effort that needed very quick turn around. Sheeri was able to assist in very tangible ways in helping us to determine the database architecture all while workinging a an environment that was almost entirely new." — David Khan Manager, DBA & Data/Information Architects, CBS http://www.pythian.com/news/testimonials/single.php?testimonial=81
Other colleagues have said:
"Sheeri is a goddess. She is everything you want and a friend or coworker. She enjoys being helpful and she is an extraordinarily skilled DBA. But it's more than that. Sheeri is wise, smart, and dedicated enough that regardless of the problem being worked on, she finds the right solution and makes great things happen." Julian Cash, Founder, The Human Creativity Project, via LinkedIn — must login to linkedin.com to view the original.
"The critical reviewing provided by Sheeri Kritzer (http://sheeri.com) has proved to be exceptionally useful, and she has had a significant impact on many of the hacks published here."
from SQL Hacks, by Andrew Cumming and Gordon Russell, published by O'Reilly (Nov. 2007), Acknowledgements (p. xii)
"Sheeri is not only a DBA, she's a major contributor to the MySQL community, a regular poster to PlanetMySQL, and a major force at MySQL conferences. She also has a widely read blog and a widely listened podcast.
At Online Buddies, she is basically the reason why it works at all."
Mark Atwood, author of the Amazon S3 storage engine for MySQL and MySQL AgentX SNMP subagent, 2007 Sysadmin of the Year Contest
Co-workers have said:
"Sheeri is the only person I know who can literally be running 5 or 6 scripts at the same time, having two conversations and still be able to get it all done correctly and on time. I'm always shocked by how fast she gets things done and the wealth of knowledge she has. Not to mention she is always friendly and helpful, even if you have to call her at 3:00 am. Simply put, Sheeri friggin' rocks.." Travis Roe, Customer Service Shift Supervisor, Online Buddies, Inc. in the 2007 Sysadmin of the Year Contest
"Sheeri Kritzer is a MySQL rockstar. She is one of the top contributors to the MySQL community and is well known among her peers. A founder of many user groups, Sheeri is one of the goto people for tips, tricks, and information on just about anything MySQL or database related. Just this year she was recognized as a significant leader at the annual MySQL conference in California. How well known is she? Heck, we called MySQL to purchase a few support licenses and its amazing the response we got when we dropped her name. All of a sudden the price per license dropped and immediate payment turned into, "pay us anytime."
In the office she is the go to data person maintaining god knows how many DB tables and gigs and gigs of data. The Master (or Mistress) of all things MySQL and Linux, there is no shell she can't manipulate to do her bidding. With a few strokes of the keyboard she can kick up queries, triggers, and CRON jobs almost by reflex. Beyond her tech skills she actually has a personality. No really, she's very personable with a great sense of humor. Sheeri makes the office "funner" with her various witty quips during meetings, standups, or other informal gathering.
There is no OS she can't tame. Off the top of my head she works directly with Windows XP, Windows Server 2003, Windows Mobile 5, Apple OSX 10.4, Red Hat Enterprise 4, Red Hat Enterprise 5, CentOS 4, Trustix, Fedora, etc. Truly a versatile person in all that she does.
Another reason she should be the winner of Sysadmin of the Year? Well, so she can stop bogarting the Guitar Hero guitar. " Winston Chou, Systems Engineer, Online Buddies, Inc. in the 2007 Sysadmin of the Year Contest
"Sheeri's collaborative approach to systems' design and administration ensured that relevant details came forth in the planning rather than testing or production stage of a project. Her care to get a job done well and prompt handling of issues enabled the team I led to be more productive than we had been under any other system administrator at Tufts." http://tinyurl.com/q7fzv — must login to linkedin.com to view the original.
Managers have said:
"Sheeri was the rare student who understood the responsibilities of supporting a large number of users who sometimes appeared unreasonable. Not only did she have the technical skills to keep things running well, but she also managed to calm far more than her share of upset users."
David K. Wittenberg, System and Network Manager, Computer Science IT Department, Brandeis University
Other sites have said:
"Sheeri Kritzer is a certified MySQL administrator with an active interest and involvement in MySQL and the MySQL community. In her blog she discusses database security and performance in a practical and competent manner, while also covering events she is participating in as well as more general issues of interest to users and developers of MySQL. The blog seems to be updated regularly, and it contains many entries – all of which are well written and more extensive than one perhaps have come to expect from blogs today." — Bill, the founder of PHPCentral.org at http://www.phpcentral.com/49-notable-mysql-blogs-reviews.html
Boston MySQL Meetup Group members have said the following about Sheeri's presentations:

June 2006 Meetup
"Very KISS (keep it simple stupid). Presentation seemed accessible to people of different levels of technical knowledge; Jargon was kept to a minimum."
March 2006 Meetup
"very interesting and informative"
January 2006 Meetup
"I found the meeting informative with many tips on backup techniques. Thank you for sharing your experience and for the pizza!"
"Very focused and informative presentation."
"I thought it went rather well, I like the structure."